"Imagine a terrible, unforgiving world where horrible things happen randomly to innocent people. Lamentations is a great way take your mind off it for a while and be somewhere worse."
-Hilliard, The Skinned Man
Raggi kicks my door down with Better Than Any Man. Ironically, I was at my FLGS to play in a Pathfinder Society game on Free RPG Day (which was about 4 hours of un-fun punctuated by moments of, "am I having fun yet?") and grabbed a few free things that looked neat. When I got home, I read BTAM like one reads a novel: it had interesting characters, events and sites that were connected and not, an overarching plot with numerous "endings," and a slew of crazy original ideas. BTAM shows unequivocally how awesome an RPG game module can be. Even if I never ran it, my life was better for having read it. And of course I wanted to run it.
Nah.
Nope.
Meh.
Yes, that's the car for me!
Some people live in a fantasy world where Orcs and Goblins are interesting. I don't get it. Honestly, I've never been that excited about high fantasy settings (I'm more into sci-fi or mythos type stuff).
That said, if you love your Elves, Dwarves and Halflings, Raggi is nice enough to provide the rules for you to play with them. I think this sucks, and will talk more about it below.
Some things that do stand out and contradict my suggestion that Raggi isn't innovative in the Rules & Magic book: Magic-Users can use any kind of weapon and wear armor, Fighters are the only ones who get better at attacking as they level up, Specialists can excel in skills other than thief-style skills, and the spells in the magic section are all Fucking Awesome (check out the Summon spell as an example). The spells in particular show the "weird" of LotFP, but many people don't just sit and read those.
I guarantee you will experience things while playing LotFP modules that you will not with any other. There are metagames, twists, horrific death hidden so deep you can't imagine your players ever finding it, the worst hilarious magic items imaginable, monsters that make you chuckle and squirm, and more glee than you deserve.
"LotFP is like sex and pizza. Even when the mushrooms on the pizza are alive and the people you're having sex with are dead, it's still good."
-Fred, The Shaggy Dog
I promised to tell you some things that suck about it. This has to be a fair review, right?
1) I wish there weren't Elves, Halflings and Dwarves in the Rules and Magic book. I know why they're there (so that you whiny fucks who want to include them in your game can). Still, I don't want them in my game and I don't want them in my rulebook. I wish Raggi had gone Bard-style on the fantasy races and included them in the appendix as an "optional rule."
Also, some of the older modules (Weird New World, Hammers of the God, Vornheim…) feature fantasy races. These were published before Raggi made the "official" change to a low fantasy, Early Modern Era setting. I wish these were updated to match with the current setting.
3) What is all this shit for? I believe Raggi set out to create a game that would be interesting for veteran players, but also get new people into the hobby. The streamlined rules, easy character creation, and simplified combat succeed here. Also, the attractive (gripping, disturbing) art and writing style pull readers in. Where it fails is providing players with some ideas about beginning adventuring. The equipment section takes for granted that someone knows what all of this shit does (or that they have a phone with internet access handy). Oddly, the weapons have quite a few details, including additional rules for firearms in the back, but nothing like that for normal gear.
4) Alignment in D&D is ridiculous. I still want to punch my friend in high school who insisted on playing the Chaotic-Neutral character who was "all crazy" and ran around purposely fucking with my game. LotFP handles it much better:
"In the real world, every human being that has ever existed has been Neutral."
"Clerics must be lawful. Elves and Magic-Users must be Chaotic."
Here's what I don't like:
"All others are free to choose their alignment."
Why? Alignment in LotFP is primarily to interact with game elements like detect evil, etc. Why would some douche who picks up a sword suddenly be chaotic?
Finally, every time I get to the "Property and Finance" section I can't help but wonder what kind of a sick fuck James Raggi is. In just a few short pages, I know that guy is going to stab that woman through the eye with his rapier, yet I'm reading about investments, taxes and interest?
"Okay guys, you made it out of the dungeon, what now?"
"Hmm, I am going to go hire an accountant and find a good way to invest this silver I dug out of the belly of the Bleeding Ass Golem that killed half our party…" has happened NEVER.
Why not some good carousing rules here to encourage players to get shit-faced, spend all their money and get back to another adventure?
Obviously, none of the above are enough to detract from my enjoyment of the game and I've already house ruled away the fantasy races, added in carousing, and don't allow my players a choice in alignment. I think overall, the book would have been more cohesive and aligned with the setting with some of the above changes. I would have preferred a full on, balls out, "This Is How It Is!" rather than the more diplomatic, "Here it is, but I want you to be able to use this with those other games too…"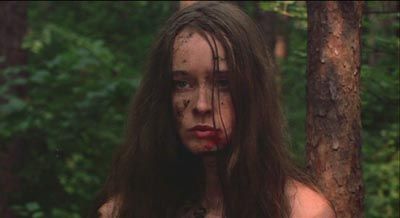 "It's like playing D&D with your creepy uncle Bob and his penis monster."
Nara, She Spits on your Grave
Other folks to keep an eye on: